"Memories from #play14" is a collection of all the stories and experiences that the participants shared over the various Italian editions.
Three intense days of useful and above all fun games, declined in many different meanings.
Three days of meetings with people who are passionate about their work and capable of both involving and being involved. Three days of gratitude to those who presented and shared a part of this passion with everyone.

5th edition of #play14, 2022
Federico Giolli
An unconference is a special event format because you never know what you are going to get and where you can, if you want, bring your input, experiment and even make mistakes.
I also love it because of the conversations with unknown professionals, which start between sessions, in a casual and really natural way.

5th edition of #play14, 2022
Piergiorgio Lovato
Training for self-improvement.
Yesterday I've been playing for 12 hours continuously, thinking about how to take something to my work, to my team.


Getting into the game is so beneficial, it's HARD, but we cannot not DO IT.
I wish you to play more and more!!

5th edition of #play14, 2022
Alessandro Nanni
Three wonderful days at #play14
We made friends, we reasoned on ourselves and on group dynamics, we understood the essence of learning and we had a lot of fun.
As we used to do as children, we got involved, we set rules and we respected them, we created team and we grew up.
We did everything through the game!

5th edition of #play14, 2022
Massimo Azzolini
Finally after two years of missed opportunities, I could attend this wonderful event.

Three days of Playing and Learning, in a big human environment and a beautiful location...
I leave with the power of intertwined relationships, of multiple activities and games to take to my office as soon as possible and with the joy in my heart.
And I leave also with the Masters' quote, which I believe will be precious to me and whoever I will meet: the "black belt" is a "white belt that never gave up"…at every level and in every context!

5th edition of #play14, 2022
Silvia Faresin
It was a unique experience made of diversity, beauty, knowledge and structure (in its own way).
#play14 is a worldwide gathering of like-minded people who believe that playing is the best way to learn, share and be creative! For two and a half days, people with many different profiles and experiences are invited to share serious games & fun activities, experiences & tips, knowledge & insights, laughs & smiles. Everyone is welcome to join and play in order to develop facilitation skills, increase ability to embrace change and improve the capacity to innovate.
Special thanks goes to Agile Reloaded Italia for organising this crazy unconference full of stimuli and encounters.
See you soon!
- We believe in playfulness -

5th edition of #play14, 2022
Marta Mascheroni
Can we play "Tokyo train" ?
How about we play Sor-Riso instead?
Or "Fly to kanban"?
Why don't "Mind"?
We can also play "Funi" and the "PCM game"
No, let's go play "Welcome to Legoland"!
Man, maybe I do an individual coaching session: there are 4 available professionals for free!
Ok, I'll go play "The Clinic"
It's only a part of the games presented #play14 Italy this year.
130 people full of Playfulness.
An important moment for those who use games to learn and teach.
I also had great chats and listened to interesting thinking minds.
I already got the ticket for the 2023 edition!

5th edition of #play14, 2022
Piergiorgio Lovato
I just came back from #play14 in Italy.
So great to be among 120+ playful enthusiasts with the Mission Impossible of bringing play into business!
I knew no-one when I arrived and left with many new friends.

5th edition of #play14, 2022
Anthony Trahair (GB)
After almost 3 years I have just returned to #play14 Italia. It was my second #play14 of the year (the first one was organised by #play14 Madrid in June).
#play14 is games, knowledge, activities, experiences, laughs & smiles. But above all, is generosity.

5th edition of #play14, 2022
Manolo Lopez (ES)
During the trip and the conference we were confronted with all the unexpected and we fell from one surprise after another.
As the only Dutch in a very large Italian group, we were received very hospitably and welcome. This provided an extra experience to everything we learned and underpins the rules:
1. Whoever comes is the right people
2. Whatever happens is the only thing that could have
I have gained a lot of insight and learned about change, my own role, inspiring fun communication techniques and how you can best use them to involve people in the right way, while having much fun and an amazing time.

5th edition of #play14, 2022
Jantine Berkelaar (NL)
A weekend at #play14 together with more than 100 professionals who believe in the power of serious gaming.
An unconference which allows you to share, learn, test, reflect, enable new approaches and enjoy together with people who want to contribute in the (working) world's evolution.

A light and deep experience of sharing, that I've never done before but I will surely do again.

5th edition of #play14, 2022
Antonella Cipollone
Play14 is a non-conference where what need to happen happens and whoever comes is the right person!
To do what? To learn while having fun through play, with colleagues and educators, participating actively or as observers.
What happened? We enriched the "activator games" box ready to be proposed to companies and teams, who want to get involved and grow!

Reflections, iterations, retrospectives, feedback and so much fun!

5th edition of #play14, 2022
Paola Ferraio
A challenging weekend dedicated to the game, at #play14 Bologna.

From my point of you I feel really satisfied: I participated in my very first unconference and proposed my own version of Munchkin for a new serious game.
I literally got in the game. There was much more interest than I expected and I am really satisfied.
I received several feedback to improve and propose a new version of this game.

Some people from the outside might think that we "just played", but this is how we got to know each other better and to meet in a different context from work.
If we would at least dwell on the dynamics that were generated, we would realise how many things can be learned starting from a game and how this makes us grow.

5th edition of #play14, 2022
Massimo Weigert
[I(N)TERACTIVITY with the P of #play14]
What is #play14?

It's a three-days unconference held once a year and organised according to the Open Space Technology structure, in a location surrounded by greenery. The main topic in improving the learning through anti-conventional interactive educational tools and techniques of facilitation and game, related to workplace topics and dynamics, with the aim of better understand them, learn them and gain greater awareness.
What did this edition mean to me??
The outing with colleagues and friends with similar interests and the joy of bringing them together.
The car trip with them.
Shared food.
Crazy stuff.
Placing me in a spot of grass to show where I come from
Bastianich's imitations.
The strong hug of an old friend.
Avoiding saying 3 or every multiple to the activity proposed by a nice participant.
The team phases.
The group democracy.
Not giving me rules that don't exist.
Defending a friend during a workshop.
Having a different point of view from another professional.
Laughing out loud.
My limits in team working.
Feeling bad during a game.
Accepting that something in my work depends neither on me nor the group but that.
Throwing energy waves in a circle of unknown people.
The strong connection with a particular participant.
Playing like a child for the sheer pleasure of doing so.
Coming back home with my colleagues.
Thinking about how lucky I am to have savored and shared each of these moments.

5th edition of #play14, 2022
Mattia Festa
A few days ago, I experienced for the first time a #play14 event or in a few words an unconference where everyone is invited to share and participate in serious games and fun activities.
I had no expectations as I did not know what an unconference was.
It has been a great moment of sharing, going out of my comfort zone and having much fun with my partners in crime.
I came home with the idea that playing/the game can be a powerful facilitator for learning, sharing and fostering understanding within a team.

5th edition of #play14, 2022
Clotilde Perot
Being able to attend such a new and different kind of format was incredibly refreshing and energising: it made me think, it made me laugh and, overall, pushed me outside of my comfort zone.
Many times we forget to have fun while we're busy at our jobs: #play14 was definitely a reminder that playing is a unique and essential tool to foster creativity, collaboration and success.
I'm so happy we did this!

5th edition of #play14, 2022
Luca Gironi



#play14 is an incredible event, impossible to tell only with words. You need to live it, test it under your skin, breath deeply and absorb it until the last drop, because once come back home, all sensations and energies discharges will continue to take effect for days on end.
I've been there this year as well, for my fourth time since 2016.
#play14 always changes you for the better.
You face with mental models totally different from your own, you learn to negotiate, to collaborate for a common purpose, to communicate beyond language and personal skills.
#play14 is above interests, organisations and marketing.
#play14 is people playing and getting involved.
#play14 is a smiling-builder.

5th edition of #play14, 2022
Irene Capatti
Participating in an event like #play14 is a way of reminding ourselves that we take ourselves too seriously and that playing and being able to have fun, regardless of age, is an important aspect of life, including professional life.
As adults, we too often forget the value of play, even as an educational and facilitative method.
We often forget that we actually know how to play.

5th edition of #play14, 2022
Dimitri Favre
I've been to a wonderful unconference on serious gaming: #play14.
I now that blogging is not fancy anymore, which is why I only write three times a year. But this time it's worth it.

5th edition of #play14, 2022
Giulio Bonanome
Last week I attended #play14: nice people, excellent organisation by Agile Reloaded, much food for thought, sharing and fun. In several moments we also talked about Lego serious play and how it can bring out in a powerful and surprising way what people think and especially what they fell emotionally, instinctively and deeply about a complex topic.

5th edition of #play14, 2022
Alessandra Cianchettini
What role do gaming and serious gaming play in your professional activity?
They have a crucial role. First of all because my work is addictive as a game that I play myself. Then because the projects we are working on are based on the spontaneous involvement of people who, through the use of technological tools, manage to coordinate to give life to create forms of collective intelligence to pursue social goals. Finally, because coding uses the game to make the basics accessible and make them available to teachers from kindergarten..
What game will you bring to this year's Play14?
It's a challenge, more than a game: I won't bring anything, but I'll build a computer with everyone here.
Do you want to leave a message for participants in the next Play14?
Rules don't limit creativity, but exalt it.

4th edition of #play14, 2019
Alessandro Bogliolo
Full Professor of Computer Systems, author of texts and popular broadcasts on coding
What role do gaming and serious gaming play in your professional activity?
I believe (and I experience it myself) that you can emerge and get great results only if there is interest, fun, passion, a highly attractive element. For decades now I have been using recreational and experiential tools within my classroom or consulting activities. They are living metaphors that involve and touch cognitive and emotional dimensions; those who, when they are allies, leave a trace.
What game will you bring to this year's Play14?
Games for team, to strengthen the team mindset and create collaborative synergies. We'r going to use tennis balls.
Do you want to leave a message for participants in the next Play14?
We are serious. You always have to find the right context to have fun.

4th edition of #play14, 2019
Giovanna Giuffredi
Psychologist, Journalist, Master Certified Coach ICF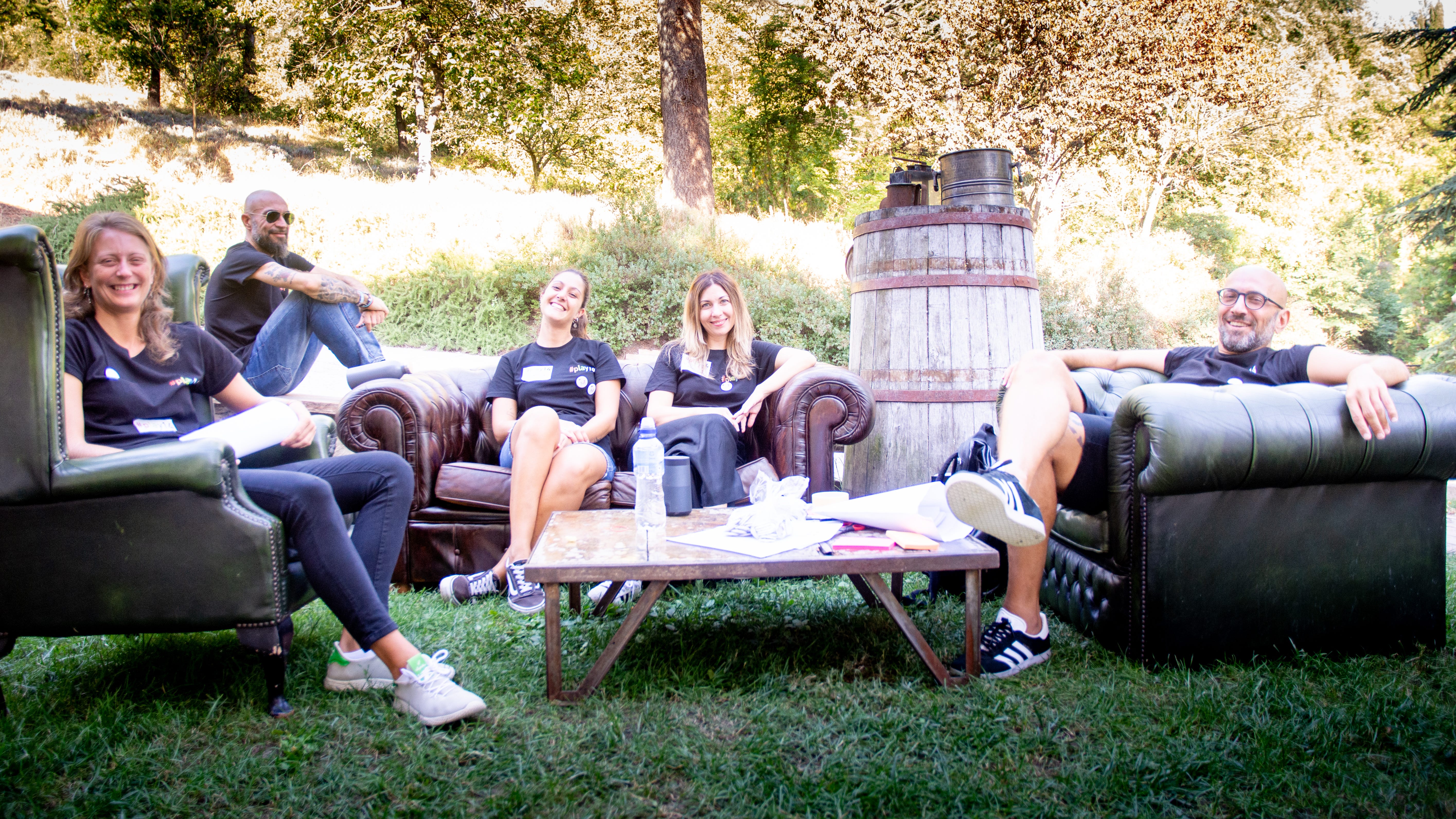 Some thoughts also from us, the organizers, people of Agile Reloaded